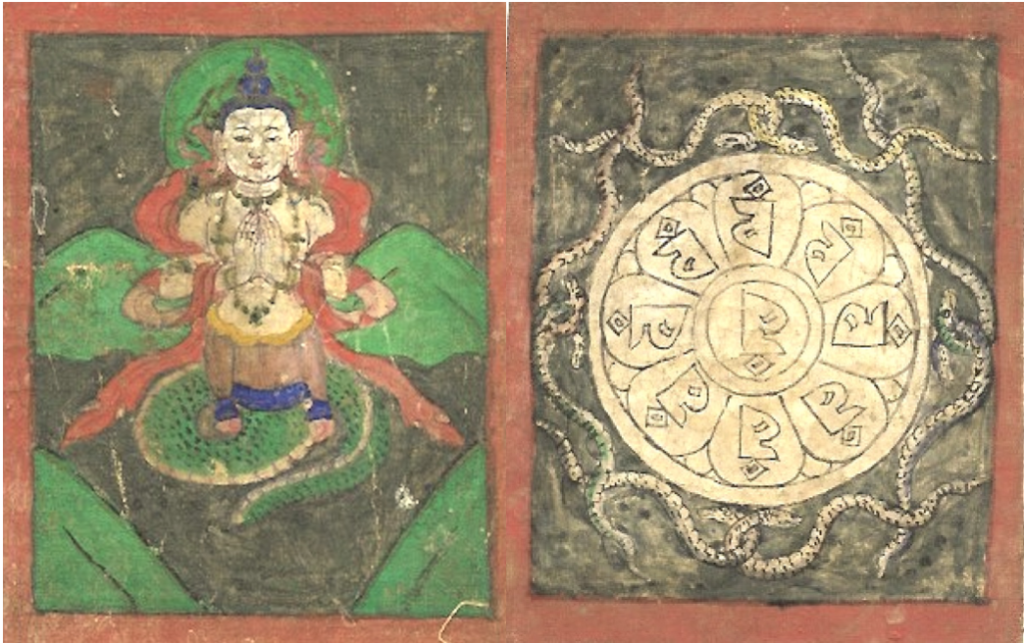 Dans les légendes de l'Inde et du Sud-Est asiatique, les Nāga (skt. नाग (serpent) tib. ཀླུ། (Lou)), comme leur forme féminine (Nāgī ou Nāginī), sont des génies des eaux représentés sous forme de serpents, de sirènes, ou de créatures mi-humaines mi-serpents, habitant le monde souterrain et les lieux aquatiques (cascades, sources, rivières, lacs, océans).
Considérés comme de grands poètes, ils gardent jalousement les trésors de la terre et apportent la prospérité. La fertilité du sol, la fécondité des femmes et l'immortalité font aussi partie de leurs pouvoirs. Ils peuvent être gardiens de Trésors, d'Enseignements, protecteurs ou médiateurs entre le ciel et la terre, intercesseurs entre ce monde et l'au-delà.
Présents dans le bouddhisme – Nagarjuna reçu en offrande d'un roi Nāga le Sūtra de la Prajnaparamita, la mère de Guésar de Ling est une Nāgi – ils sont parfois associés à l'arc-en-ciel (les rampes de l'escalier arc-en-ciel emprunté par le Bouddha sont deux Nāga).
Le Nāga apparaît également dans la vie du Bouddha historique. Durant sa méditation, un orage violent fit monter les eaux. Le roi-serpent à sept têtes Muchalinda, surgissant d'entre les racines de l'arbre sous lequel Bouddha méditait, s'enroula en sept anneaux et déploya le capuchon de ses sept têtes pour le protéger jusqu'à ce que les flots se retirent. Le Bouddha obtint ainsi la dévotion du Nāga et des eaux sur lequel il régnait.
Dans les pratiques du Mandala, les Nāga sont situés à la base du mont Meru ; huit grands rois Nāgas correspondent au huit directions.
Mais si les Nāga peuvent avoir une influence très bénéfique sur les humains, ils sont réputés aussi pour être très susceptibles ; et lorsque les Nāga sont irrités par le manque de respect et la pollution de leur milieu, ils peuvent déclencher des maladies ou des catastrophes naturelles. Le bouddhisme tibétain considère les Nāga comme la cause de certaines maladies de peaux et de cancers.
Il vaut mieux donc respecter les Nāga, en leur faisant par exemple des offrandes d'encens le plus pur, car ils aiment les odeurs délicates mais sont sensibles à toute pollution.
La maîtrise des Nāga est symbolisée par leur ennemi naturel Garuda, oiseau fabuleux tenant un serpent dans son bec (ou dans ses serres).
La Puja doit être réalisée seulement le jour des Nāga, à l'extérieur, et dans le respect de strictes conditions quant à la qualité des offrandes leur étant destinées.
In the legends of India and Southeast Asia, the Nāga (skt. नाग (snake) tib. ཀླུ། (Lou)), like their female form (Nāgī or Nāginī), are water geniuses represented as snakes, mermaids, or half-human half-snake creatures, inhabiting the underworld and aquatic places (waterfalls, springs, rivers, lakes, oceans).
Considered as great poets, they jealously guard the treasures of the earth and bring prosperity. The fertility of the soil, the fertility of women and immortality are also part of their powers. They can be guardians of Treasures, Teachings, protectors or mediators between heaven and earth, intercessors between this world and the beyond.
Present in Buddhism – Nagarjuna received as an offering from a king Nāga the Sūtra of the Prajnaparamita, the mother of Guésar de Ling is one Nāgi – they are sometimes associated with the rainbow (the ramps of the rainbow staircase used by the Buddha are two Nāga).
The Nāga also appears in the life of the historical Buddha. During his meditation, a violent storm caused the waters to rise. The seven-headed serpent king Muchalinda, rising from between the roots of the tree under which Buddha was meditating, wrapped himself in seven rings and unfurled the hoods of his seven heads to protect him until the waves receded. The Buddha thus obtained the devotion of Nāga and the waters over which he reigned.
In the practices of the Mandala, the Nāga are located at the base of Mount Meru; eight great kings Nāgas correspond to the eight directions.
But if the Nāga can have a very beneficial influence on humans, they are also reputed to be very susceptible; and when the Nāga are irritated by disrespect and pollution of their environment, they can trigger diseases or natural disasters. Tibetan Buddhism considers the Nāga as the cause of certain skin diseases and cancers.
It is therefore better to respect the Nāga, for example by offering them offerings of the purest incense, because they like delicate smells but are sensitive to any pollution.
The mastery of the Nâgas is symbolised by their natural enemy Garuda, a fabulous bird holding a snake in its beak (or in its talons).
The Puja must be carried out only on the day of Nāga, outside, and in the respect of strict conditions as for the quality of the offerings intended for them.
(Source : Pema Gyaltshen : www.larbredesrefuges.com/t5735-le-monde-des-nagas & https://fr.wikipedia.org/wiki/Nāga)