November 01 – 03, 2021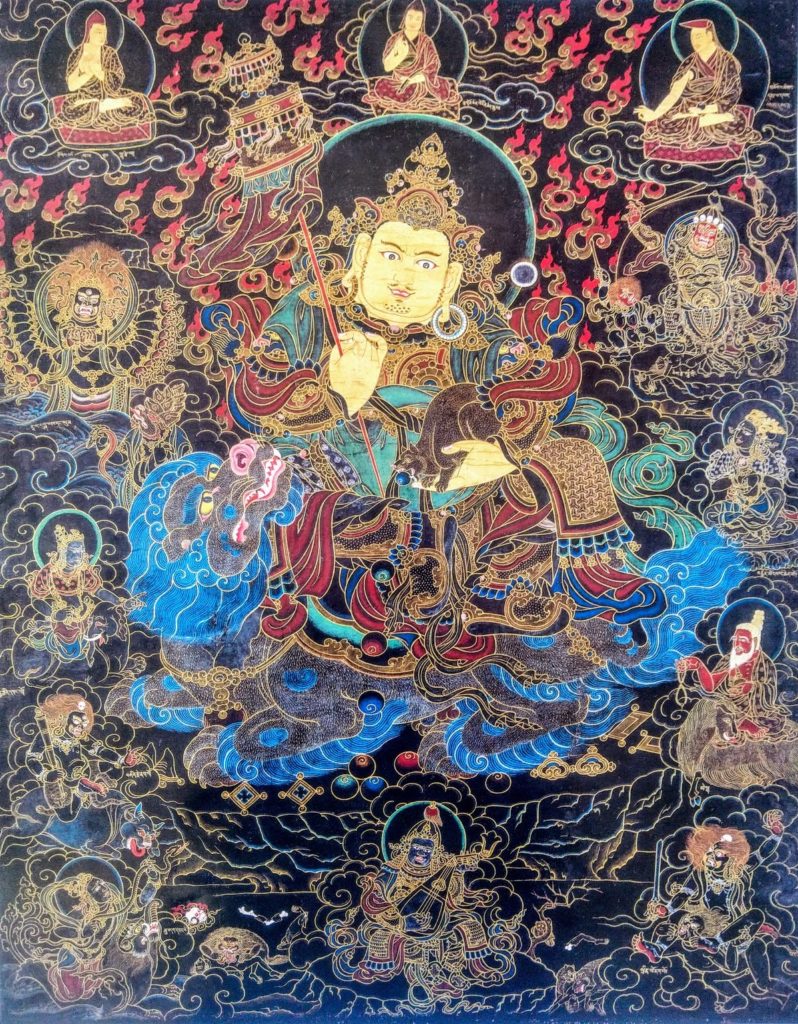 Drikung Kagyu Mila Rechen Center & Zoom
Zoom from 10.30 to 12.30 : ID 843 1856 5663 Passcode : 295375
Vaiśravaṇa (tib. Dzambala) is considered a worldly Protector of Dharma and is one of the Four Heavenly Kings. Guardian of the North, he is often represented on the wall frescoes of the temples surrounding the main gate.
He is also seen as a god of wealth ; emanation of Chenrezi, it manifests itself to relieve sentient beings : bringing material (and spiritual) wealth, it thus allows to obtain, through prosperity, the freedom to focus on the path of spirituality.
The iconography shows him stout, covered in jewels, in a regal posture, a sign that he is free from samsara. He holds in his right hand a fruit of the Jambhara tree (meaning that his practice gives access to accomplishments) and in his left hand a mongoose (auspicious omen), whose mouth is filled with jewels. His right foot rests on a conch, symbol of victory over the world, and he rides a snow lion.
Dzambala manifests in five different forms (and colours) ; Yellow Dzambala will be practiced during the Great Puja performed by Khenpo K. Tashi Rinpoche, accompanied by three Lama of the Drikung Kagyu Lineage, from Monday 01 to Wednesday 03 November, at the Drikung Kagyu Mila Rechen Center.
Sources : Espace bouddhiste tibétain & Wikipedia
Free Participation
Program
7.00 – 08.00 am : Breakfast. / 08.00 – 10.00 am : Puja. / 10.00 – 10.30 am : Break. / 10.30 am – 12.30 pm : Puja.
12:30 – 2:30 p.m : Lunch
02.30 – 04.00 pm : Puja. / 04.00 – 04.30 pm : Break. / 04.30 – 06.00 pm : Puja. / 07:30 – 08:30 pm : Dinner.
.
.
Possibility to take meals on site (simple vegetarian meals) : contact@milacenter.paris
No accommodation possible at the Center : contact David Feuillette for neighboring cottages : 06 83 33 90 86