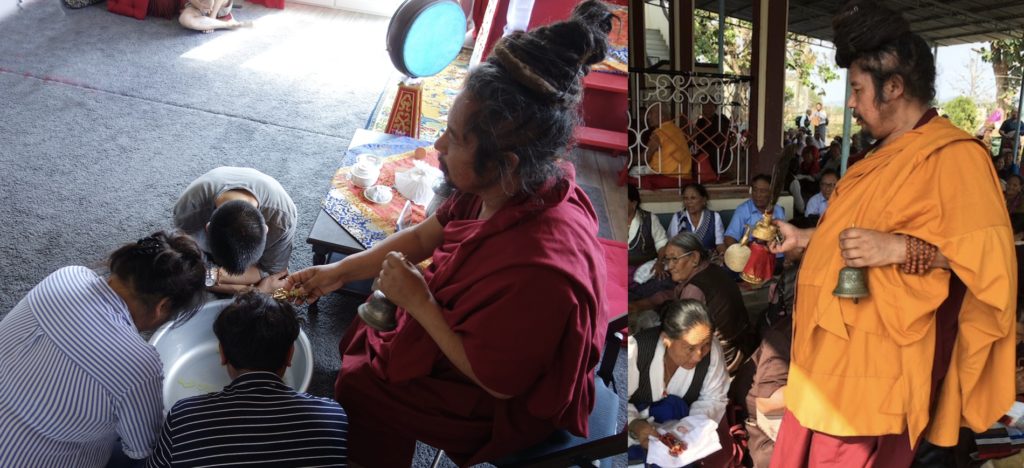 Prochaine date : Dimanche 25 juillet à 15h00
D. K. Mila Rechen Center & Zoom (ID 848 0115 9144 Mot de passe 661601)
Le rituel de Dorje Namjom ou « Washing Puja » est une pratique très puissante de purification des plans physique, émotionnel, et spirituel des êtres et de leur environnement. Particulièrement efficace contre les poisons contractés par la pollution, la prise excessive de médicaments, les cauchemars, la dépression et l'anxiété, elle protège d'une mort prématurée, de la maladie, des facteurs congénitaux et autres négativités causées par les Nagas. Elle agit également sur les obstacles causés par les déséquilibres naturels, les influences négatives (zodiacales), et leur origine (karma). En nettoyant les chakras et les énergies subtiles du corps, elle apporte santé, bonheur, longue vie et succès et augmente l'énergie positive et le pouvoir d'auto-guérison.
Lors de la cérémonie, le lama est visualisé sous la forme du Bouddha Dorje Namjom qui lui confère le pouvoir de nettoyer les négativités qui sont éliminées, puis dispersées ; après la purification, un bouclier protecteur est créé au moyen du Vajra, assurant une protection dans l'avenir. Par le pouvoir des Mantras et autres attributs, le Maître coupe les liens karmiques négatifs des énergies physiques, mentales, émotionnelles, (voire professionnelles). Le rituel comprend un bain symbolique avec de l'eau purifiée (quelques gouttes sur la tête) et a lieu principalement en groupe mais aussi en privé, et peut être répété si besoin.
Si vous souhaitez participer sans pouvoir vous déplacer, vous pouvez nous envoyer une photo afin de bénéficier des bénédictions de cette pratique.
Participation adhérent Milacenter : 20€ / Non-adhérent : 25€
.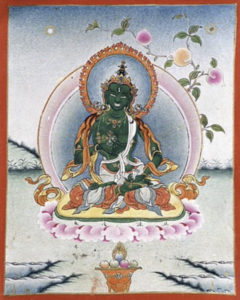 རྣམ་འཇོམ་འཁྲུས། Dorje Namjom Washing Puja
Next date : Sunday 25 July at 03.00 pm
D. K. Mila Rechen Center & Zoom (ID 848 0115 9144 Password 661601)
Dorje Namjom Washing Puja is a purification specialising in people and their environments. It is very powerful to cleanse the body, speech and mind of all sentient beings from contamination, material or spiritual. For millennia, the great Tibetan yogis have lived long, healthy and prosperous lives because of this practice. Purification Ceremony with Vajravidharan is the Buddhist deity of purification, which removes contamination, negative attitude and misconduct made to the body, mind and speech. In addition to possible impurities at all levels, also removes its origin (Karma), external sources and obstacles caused by natural imbalances or negative influences zodiac. Also removes the causes of diseases and negativities of unknown origin. After purification, it creates a protective shield with the Vajra (the object that carries in his right hand diamond represents spiritual strength), which protects for the future. The ceremony is performed in 3 stages : first by removing the current negativities then waste, and finally protecting the person for the future. The teacher takes the form of the Buddha through meditation prior Vajravidaran applies power to cleanse the mind and release of potential premature death, disease, negative influences of the stars, envy and congenital factors, among others.
The ceremony includes a symbolic ritual bath with purified water (a few drops on the head and other body parts). With the power of the Mantras, bells, and other elements of power, the Master removed attendees karmic energy ties situations involving physical, mental, emotional or work.
The ritual increases power personal power and self-healing powers and positive energy of the person. Clean the chakras and subtle energies of the body. Decreases frustration, depression and anxiety. Eliminates nightmares, negative dreams, brings health, happiness, long life, and success. It is a traditional ceremony and widely practiced in the Himalayas and Tibet.
If you would like to participate but are not able to travel, you can send us a photo to benefit from the powerful blessings of this practice.
Milacenter member fee : 20€ / Non-member fee : 25€.