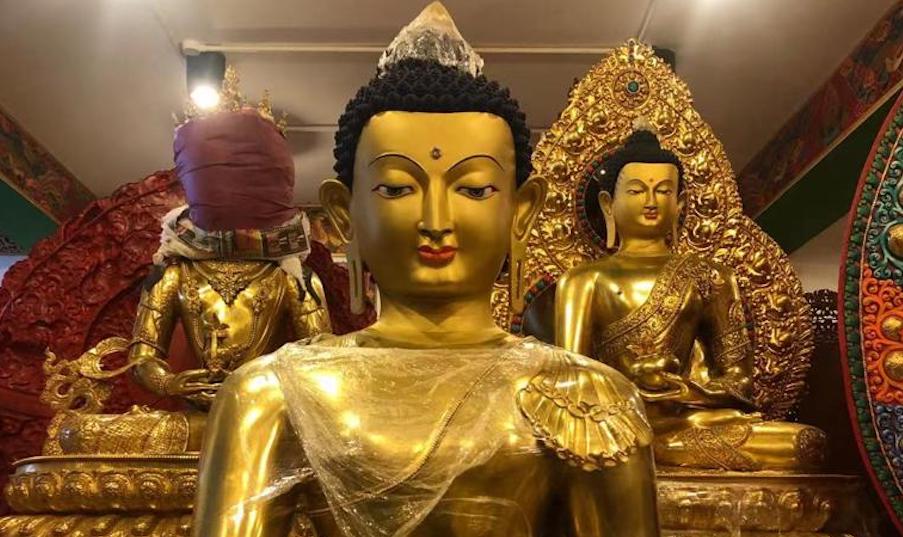 Khenpo K. Tashi Rinpoche wanted a single statue of Shakyamuni Buddha in the future meditation hall of his retreat centre in Bonny-sur-Loire.
Thanks to the generosity of many donors, Rinpoche was able to commission it in Kathmandu in April.

.
Jewel of the future meditation hall of the D.K. Mila Rechen Center, it is 6.5 feet high and will be gilded with the finest gold. It will take a few more weeks for it to be completed and shipped to France, where it will be consecrated by Rinpoche.
Rinpoche says that contributing to it *, even in a small way, will bring great merit to his donors…
Thanks again to all the benefactors who have made this project possible 🙏
.
« If one person or a hundred people create roots of virtue, they will be universally appreciated by all beings. Thus, the donors will also acquire roots of virtue… If you can help this Centre, through your help, the Centre will become stable… If those who have material wealth make offerings of the resources they have, they are practising the accumulation of merit… for generosity perpetuates abundant wealth and prosperity for many future lives. […] One must have the desire to benefit beings. Whether one has external material wealth or not, if one has the inner thought: 'I want to be useful to this world', in the future one can really do so ».
Drikung Kyabje Garchen Triptrül Rinpoche (Arizona 2006)
.
.
Drikung Kagyu Mila Rechen Center, 66 rue du Faubourg de Villeneuve, 45420 Bonny-sur-Loire.
IBAN FR76 1027 8060 4300 0210 4620 173 / BIC CMCIFR2A
.
NB : No charge if you cancel / modify the proposed amount of the contribution.
.
Please consider commission fees 🙏
.
* In France, for a private individual, a donation to D. K. Mila Rechen Center entitles you to a tax reduction equal to 66% of the amount of the donation, within the limit of 20% of taxable income (general conditions provided for in articles 200 of the General Tax Code); thus a donation of 100€ entitles you to a reduction of 66€. You will receive a tax receipt for your donation at the beginning of the following year.
Thank you for your generosity 🙏